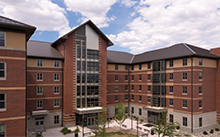 The Vision
The University of Nevada, Reno completed construction of a new five-story, 124,000-square-foot Living Learning Community building in June 2012 to accommodate up to 320 students. Living learning communities are designed to integrate student learning with on-campus residential living, helping students make connections and develop friendships with those who have similar academic interests. Students are assigned to the same floor in the residence hall, take one or more core courses in the building and actively participate in their floor communities. The University of Nevada, Reno, currently offers nine distinctive Living Learning Communities within the building focused on journalism, business, Women in Science and Engineering, education, pre-nursing, engineering, art and honors. The accommodations in the building are suite-style with three different configurations housing four, five, or six students per suite.
The Airolite Look…
livinglearning-2.jpgThe new Nevada Living Learning Community is the first of its kind on the campus of the University of Nevada, Reno. This innovative structure and striking design were intended to serve as a recruiting tool and make a dramatic statement about the University's commitment to sustainable and contemporary architectural design. The environmentally sensitive design included many features that helped the building earn LEED Silver Certification.
The architect and building owner wanted to maximize outdoor views and daylight in the common areas where students gather to enhance the living experience while reducing solar heat gain.
Eighty-two sections of Airolite vertical rectangulartube sun contols and horizontal airfoil sun controls were installed on the front façade/atrium area with a southern exposure to provide a unique and aesthetically pleasing solution to daylighting and energy control objectives. Another section of sun controls was installed on the building's West-facing elevation overlooking an outdoor courtyard area. All the sun controls as well as nine sections of Airolite Drainable Louvers (Model K6774) were finished with a custom, color match two-coat gold Kynar 500® resin coating selected by the architect to match window and curtainwall systems while complementing the red and gold tones in the exterior brick work.
That Works
livinglearning-3.jpg
Custom sun controls were strategically placed horizontally on several elevations to allow abundant views from the interior. The vertical sun controls were installed between the curtainwall systems' deep decorative caps. All product was finished with a custom, color match two-coat gold Kynar 500® resin coating.
The Airolite louvers, Model K6774, can achieve high volume air flow while providing superior resistance to water penetration. Drainable louvers are fabricated with gutters at the front edge of each blade to prevent water droplets from dropping onto lower blades and entering the intake air flow.
Architect Peter Grove of Collaborative Design Studio was very pleased with the look and functionality of the Airolite louvers and sun controls. He stated, "The nice clean lines, style and depth of shades provide the look and daylight desired while also reducing solar heat gain."